Police "Compromise" Reached For Ping Yali's Guide Dog



Ping Yali is the proud owner of Lucky, China's first guide dog.
But the golden retriever is banned from many public places. PICTURE: BERNARDO DE NIZ


LUCKY, China's first seeing-eye dog who was trained with Australian help, is finding life in Beijing a trifle bureaucratic.

His new owner, Ping Yali, China's first Paralympic gold medallist, is thrilled to bits with the golden retriever, who graduated from China's first guide dog training centre, but the pair are finding it difficult to go out.

Ms Ping, who owns three massage clinics staffed by blind masseurs, has been told by the Beijing municipal government and local police that she cannot register Lucky because of his size. Big dogs are banned in the capital and all dogs are banned from entering public places such as subways and buses.

Under a police "compromise", Ms Ping, 44, is now allowed to take Lucky outside her flat if she is accompanied by an able-bodied person.

Ms Ping, who is sponsored by BHP Billiton as one of its athletic ambassadors for the Beijing Games, was to be a guest at last month's Australia Day ball, with Olympic legends Ian Thorpe and Raelene Boyle. Ms Ping wanted to bring Lucky with her to the ball but, despite intensive lobbying by BHP, which is the "medals and minerals" sponsor for the 2008 Olympics and Paralympics, the Shangri-La China World Hotel would not allow it.
Ms Ping, chosen as a torchbearer for the Olympics, also hopes to run the relay with Lucky, but is waiting for approval from Olympic officials.
For now, she flouts the rules when she can. Her favourite times are when she and Lucky can walk to a destination, such as the massage clinic closest to her home in west Beijing, without trying to talk their way into a bus, subway or taxi. During their first walk, Lucky helped her down some stairs. "I almost burst into tears at that moment."
Ms Ping has mastered English commands, but Lucky also understands Chinese. For example, he knows that "go yinghang" means "go to the bank". Ms Ping studied at a massage school for the blind as a teenager. When she graduated in the early 1970s, the government assigned her to a factory for disabled people. In the early '80s, she started dreaming of setting up her own business.
In 1999 she did, launching a business from home, and after winning a national television competition against 49 other would-be entrepreneurs, she had 80,000 yuan ($122,000) to expand.
Ms Ping lost half the prizemoney when she opened her second clinic in a poor location. "Massage beds were piled in my house and I felt so irritated, but after reasoning out the failure, I started a third business and … I am able to pay for my son's college tuition by myself."
Ms Ping learnt about guide dogs when she was in New York for the Paralympics. "I noticed athletes from Germany, England and the US taking golden (coloured) dogs to get on and off buses.
"In the 1980s, people felt great pity when they saw a disabled person and believed that as long as they had food to eat, that was enough," Ms Ping said. "But now there is greater acceptance that both able and disabled people live under the same blue sky and should enjoy the same rights."
Another sign of progress is that previous medals for Paralympians were inferior to Olympic medals, but BHP Billiton, the Games' metal supplier, has ensured that all medals are of the same quality.
the
age
.com.au
Mary-Anne Toy
February 23, 2008
This story was found at: http://www.theage.com.au/articles/2008/02/22/1203467386468.html
: : : : : : : : : : : : : : : : : : : : : : : : : : : : : : : : : : : : : : : : : : : : :

Nothin' but a guide dog, helpin' all the time
By Wang Zhuoqiong (China Daily)
Updated: 2007-12-20 07:26
Ping Yali is a Lucky person.
The former Paralympic athlete, who suffers from partial blindness, is now the proud owner of Beijing's first guide dog.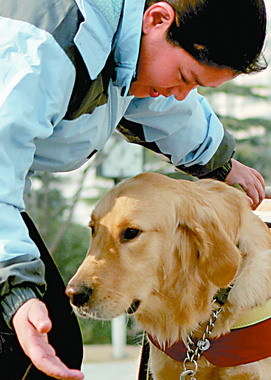 Ping Yali and her seeing dog Lucky
"He is like my eyes," Ping gushed yesterday. "It is like I can see things again."
"Lucky" is a 19-month-old golden retriever, one of the first five guide dogs that recently graduated from a training center affiliated to Dalian Medical University in Liaoning.
Ping, who won China's first gold in long jump at the 1984 New York Paralympic Games, was chosen as one of the first recipients of the new seeing dogs; and Lucky has been assigned to her for the next 10 years.
But after having Lucky for only four weeks, Ping realized that she cannot fully take advantage of her companion's abilities.
Regulations in Beijing restrict ownership of large dogs; and dogs are barred from entering public places.
In addition, the city does not recognize guide dogs but Ping said police informed her that Lucky could be taken outside, but in a self-defeating compromise - only in the company of an able-bodied person.
She has been advised to go to Beijing's animal husbandry and veterinary bureau to get Lucky recognized as a guide dog, which would then enable police registration without charge.
Ping said she hopes regulations are amended so that visually impaired people and their seeing dogs are exempted from the restriction.
"We were not allowed to enter subway stations, buses and sometimes even taxis," Ping, a torchbearer for the 2008 Olympic Games, said.
Setbacks aside, Ping has already established good rapport with her new friend.
During her first walk with Lucky, the dog helped guide her down stairs, one of the more difficult challenges for a blind person.
"At that moment, I virtually burst into tears," Ping said. "Lucky reduces the risk of injuring myself when I go out."
Their relationship began with Lucky's trainer, Song Yali, familiarizing Ping with certain commands.
"He never bites anyone," said Song, who stayed with Ping and the gold-furred Lucky for four weeks so that the transition was smooth. "They are one of the nicest breeds in the world."
Lucky guides Ping across roads, not by recognizing the color of traffic lights, but by watching traffic flows.
Lucky recognized the word "Gongyuan", which means park, after being shown it only a couple of times.
Golden retrievers are considered one of the best breeds for guide dogs because of their intelligence and friendly disposition.
The Dalian Medical University Center, where Lucky was trained, was established two years ago.
It is now training some 30 canines for visually impaired athletes to raise awareness about facilities for the blind.
It takes eight months and costs about 100,000 yuan ($13,500) to train a guide dog.
Ping's first exposure to guide dogs was at the New York Paralympics, where many blind athletes from European countries and the United States had their own seeing dogs.
"It has taken more than 20 years for China to have guide dogs," Ping said wistfully.
About 12.3 million people in the country suffer from some form of visual impairment, including total blindness.
Some blind people work as masseurs, and Ping herself runs a massage clinic.
The first training schools were established in Germany during World War I to help returning veterans blinded in combat.
: : : : : : : : : : : : : : : : : : : : : : : : : : : : : : : : : : : : : : : : : : : :

Beijing welcomes first guide dog
Updated:2007-12-14

Paralympic champion stays with her guide dog



(BEIJING, Dec. 14) -- "That day, while I was walking with Lucky, he suddenly stopped and touched my leg with his head. I stretched out my leg and found that there were stairs in front of me. I was moved to tears." When talking about her guide dog Lucky, Ping Yali, China's first Paralympic champion who only has a vision of 0.05, couldn't hold back her excitement.
Lucky is a male golden retriever, weighting 40kg. On December 3, after training in Dalian, Lucky came to Beijing and entered Ping Yali's life. Now, Lucky is the only professional guide dog working in Beijing.
This day, Lucky's work was to accompany Ping to her workplace. Although it was his first time walking this road, he still performed professionally.
When crossing roads, Lucky always waited until all the vehicles stopped and most other pedestrians had started walking.
Arriving at their destination, Ping Yali took off Lucky's collar, and he immediately started to play. For him, a collar is like a sign for work. Take it off, and Lucky will relax like an ordinary dog.
The trainer Song Yanan told the journalist that guide dogs should wear a collar when going out. After the training six to eight months, they will get used to it and adjust to the working state. Out of every ten to twenty dogs, only one will become a guide dog.
As an Olympic torchbearer, Ping Yali hopes that she can take Lucky with her to participate in the torch relay and bring him to the Paralympics next year.
Custom Search